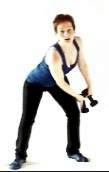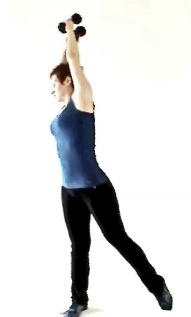 Stand with feet shoulder width apart and hips in neutral position

Chest out, shoulders back and head straight forward

Start by holding dumbbells at knee level in a semi-squat position.

Rotate your trunk and extend your knees while raising hands towards the opposite shoulder. Keep your arms straight during this movement.

Remember to rotate shoulders and hips and not just the arms. To ensure this movement, let head follow arms during rotation.

Return to the starting position and repeat for 12 repetitions.

Repeat with the other side

Don't bend your back keep it straight.

Draw abs in, exhale while raising .

Repeat 12 reps with each side

.