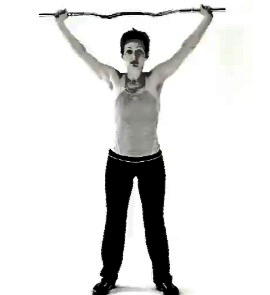 Stand with feet shoulder width apart with knees slightly bent (at 20°)

Start position: Grasp bar with overhand grip shoulder width apart and rest on shoulders.

Back should be straight in a neutral position

Press the barbell overhead into a shoulder press position

Lower barbell behind your back as low as possible. While you may feel tension in shoulders, lower stick to a comfortable level without any pain.

Repeat 15 times

Remember to keep back straight and abs tight.