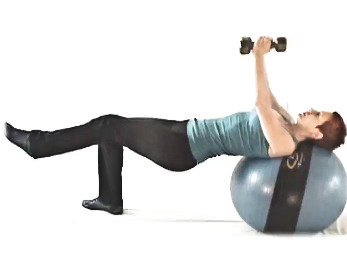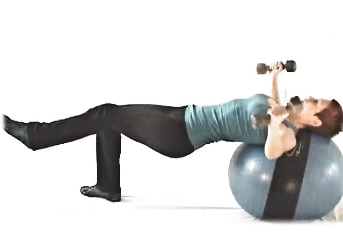 Sit in an upright position on a ball with a dumbbell in each hand. (You may rest each DB on the corresponding thigh.)

Start position: Place neck and shoulders on a fitness ball

bring the dumbbells to your shoulders.

Press the dumbbells up directly above the chest with the dumbbells almost touching and palms facing each other

Lift one leg off the floor and keep it parallel

Stabilize

Keeping the elbows slightly bent, lower the dumbbells out and away from each other in an arcing motion with hands aligned with the nipple-line

Stop as upper arms are parallel to slightly past parallel to the ground

Think about moving elbows not hands.

Keep dumbbells above elbows during movement .

Return to the starting position and repeat.

To end the exercise, place dumbbells on shoulders and return to the seated upright position.

Keep abs and glutes tight at all times.