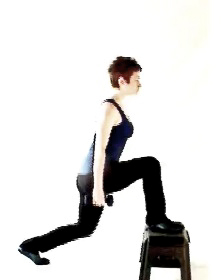 Stand on a box, platform or step ( between 10 and 18 inches high)

Lift chest, shoulders back and tuck chin

Grasp dumbbells and let arms hang down at sides

Tighten abs, activate glutes

Step down with one foot and lower back knee.

DO NOT allow front knee to extend past the big toe to prevent injury.

Pushing off front heel, raise to starting position.

Complete 12 reps before repeating with opposite leg.