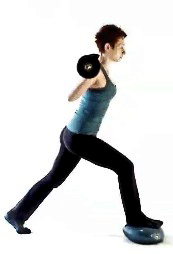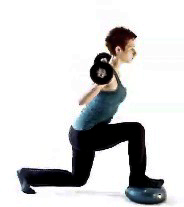 Stand with one foot on the dick

Step backward with one foot 2-3 feet

Grab dumbbells and hold them to your sides.

Lift chest, shoulders back, and tuck chin

Tighten abs, activate glutes

Stabilize

Lower back knee, forming a 90° bend at the front hip and knee.

DO NOT allow front knee to extend past the big toe to prevent injury.

Pushing off front heel, raise to starting position.

Remember to keep head and back upright in a neutral position.

Shoulders and hips should remain squared at all times.

Watch for proper knee alignment - do not let front knee extend past big toe or deviate from side to side.

Back knee should not come in contact with floor.

Complete 12 reps before repeating with opposite leg.