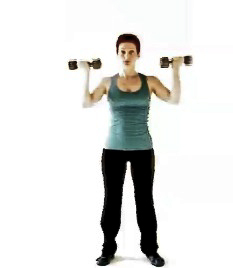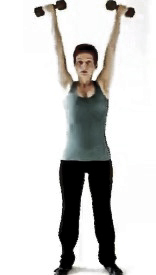 Stand with feet shoulder width apart and hips in neutral position

Chest out, shoulders back, and head straight forward.

Tighten abs, contract glutes

Position dumbbells at ear level with overhand grip (palms facing back)

Press hands up and out laterally above head keeping wrists over the elbows and arms moving parallel to body at all times.

Rotate hand during movement so that your palms are back facing forward at the top of the movement.

Return to start position.

Remember to keep back and head straight in a neutral position -

Hyperextension or excessive flexion may cause injury.

Repeat 12 times .