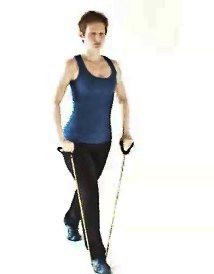 Step onto tubing with knees slightly bent.

Start position: Grasp handles with an overhand grip (palms down) and shoulder width apart.

Arms should hang down at sides with elbows slightly bent.

Raise handles to front of body at shoulder height keeping elbows only slightly bent.

Return to start position and repeat 12 times

Remember to keep back and head straight in a neutral position - hyperextension or flexion may cause injury.

Keep shoulders stabilized by squeezing shoulder blades together throughout movement.