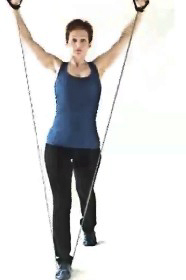 Start by placing both feet on the band and hold each end in both hands at shoulder level.

Starting with your elbows at 90 degrees press both arms straight up until your elbows are extended.

Return to the starting position and repeat for 12 repetitions.

Keep your abdominals tight throughout the movement and avoid arching your low back.